After having built up experience in digital product building and a good network and overview of the graduate community, the team of MYBS discovered a serious lack in guidance for young career starters. A massive amount of platforms available, but all with a limited number of relevant jobs and mostly with poor design and tons of information redundancy.

GraduAid aims to become the most efficient platform for starter jobs and internships. Their mission is to create a perfect match between employer and employee based on the profile and the preferences of both parties. GraduAid can tailor by their granular approach, because the website labels all content provided by the two parties - companies and students - based on an objective algorithm, reducing redundancy and enhancing efficiency.
GraduAid aims to innovate the concept of the job platform by integrating the following tools:
Mobile app with ´tinder´ behavior to push jobs to candidates with relevant profiles.
Smart Matching algorithm taking into account academic background, skills, languages, locations and preferences to calculate a potential match.
Event Integration: Calendar tool where all job events, recruiting events, job fairs and deadlines are present to push relevant ones to the candidate profiles.
Interactive Tools to annotate, hide and rate jobs.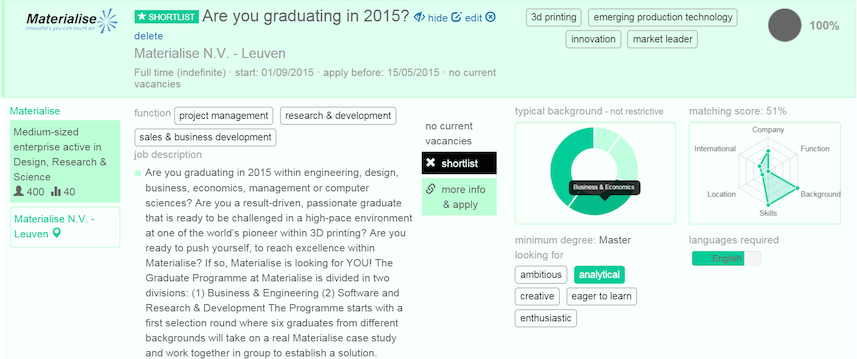 Currently GraduAid launched their Beta version at the end of April and invites graduates to sign up and discover a new home for the start of their career. www.graduaid.be